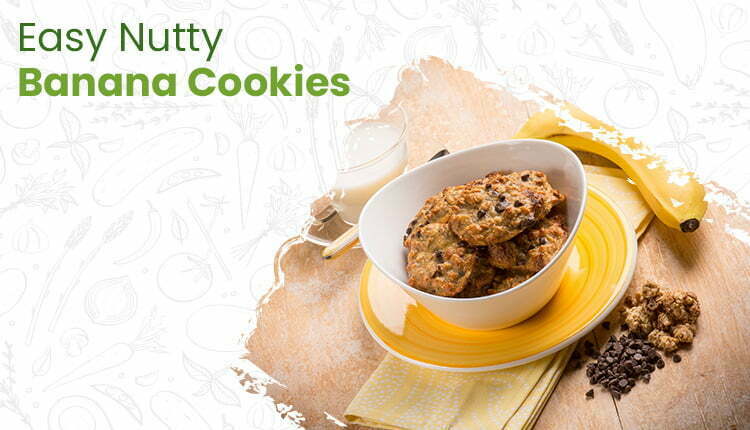 Easy Nutty Banana Cookies
Prep Time 15 minutes  
Cook Time 20 minutes                  
Total Time 35 Minutes
These chocolate chip cookies are a chocolate chip cookie lover's dream. They're a trio of chocolate chips topped with two types of almonds. To put it another way, these Nutty Chocolate Chip Overload Cookies are chock-full of chocolate chips and nuts!
Nutty Banana Cookies are grain-free, vegan, and have no added sweeteners or eggs. The ideal treat for individuals who adore bananas, almonds, and chocolate!
Simply substituting raw nuts for the oats in my banana oatmeal cookies recipe yields a robust cookie that is gluten-free, paleo-friendly, vegan, and oh-so-delicious! Not to mention that there is no extra sugar in the recipe because it is simply sweetened with bananas. That is unless you bake these banana cookies with chocolate chips as I do. It is entirely optional! You may include dried raspberries or anything else you like in cookies.
We wrote optional ingredients for anyone who wants different cookies!
Ingredients for Nutty Banana Cookies:
Ripe Bananas:We use three ripe bananas as the sweetness and the bulk of the mass in this recipe to create a delicacy that is naturally sweet and tastes like banana bread and a cookie that gave each other a really nice embrace.
Unsweetened nut Butter (Peanut and Almond):The binding agent that holds the cookies together! Any unsweetened creamy nut or seed butter will do. Just make certain that whatever you use is well-stirred and thick. Because it may make your cookie oily!
Peanut, sunflowerseed, cashew or walnut butter are all great options for baking cookies with them.
Nuts: This recipe calls for two cups of raw nuts. Roasted nuts can also be used, but make sure they aren't salted or have any additional flavours or sugars. The nuts serve as the crunchy, substantial portion of the dish so select your favourites!
You can use a mixture of raw almonds and pecans (1 cup each), but you can use whatever combination you choose. Walnuts, Brazil nuts, pumpkin seeds, and cashews are all excellent choices. Because the nuts must be chopped, you can use pre-chopped nuts if you have them.
Optional Ingredients:
We have plenty of ways to make these simple Banana Nut Cookies unique each time we make them. Here are some suggestions.
1 cup of chocolate chips
½ cup of rolled oats
½ teaspoon of ground cinnamon
Pinch of sea salt(itmakes everything more flavourful)
⅔ cups of dried fruit, such asraisinsor dried cranberries
1 teaspoon of vanilla extract
*You can also buy all the necessary ingredients onDorri.co.ukTheir quality is incomparable in the United Kingdom and they have the Free UK Standard Delivery (learn more).
Let's bake a batch of these cookies now that we've all figured out how you can bake.
Instructions
Preheat the oven to 250°C and prepare a large baking sheet with parchment paper.
In a food processor, pulse the raw nuts until they are coarsely chopped. If you don't have a food processor (or a powerful blender), you may chop the nuts by hand with a knife and cutting board.
You can chop raw nuts in a food processor or with a knife.
Mash the ripe bananas in a mixing bowl until creamy (it's okay to leave some small chunks).
Mash all bananas in a mixing bowl with a fork.
Mix in the almond butter until well mixed. Stir in the chopped nuts well.
If you're using chocolate chips, mix them in now until a thick gooey dough forms. This cookie dough is intended to be extremely sticky and will not resemble typical cookie dough – this is normal.
Now Cookie dough in a mixing bowl, ready to be swirled in chocolate chips or other nuts or dried fruits you may want to add
Drop scoops of cookie dough onto a cookie sheet coated with parchment paper with a spoon. The cookie dough will not spread and will hold its shape throughout baking, so mould it into the forms you want to finish up with – I prefer round cookie shapes.
Mounds of banana cookie dough on a baking sheet
Bake for 10 to 17 minutes on the centre rack of the oven, or until the cookies are golden brown and firm. The time is determined by the size of the cookies. Bake for 10 to 12 minutes for little cookies. Larger cookies should be baked for 15 to 17 minutes.
Now your healthy vegan banana cookies are ready on a baking sheet
Remove the cookies from the oven and set them aside for 20 minutes to cool before diving in. Enjoy it! Kids going to love these cookies!
Notes
*You may use any mix of raw (unsalted) nuts that you choose. 1 cup raw almonds and 1 cup raw pecans can be used. Walnuts, Brazil nuts, cashews, and pumpkin seeds are all excellent choices.
Instead of the chocolate chips, you may substitute up to 2/3 cupsof dried fruit (such as raisins or dried cranberries). In place of the almond butter, substitute your favourite nut or seed butter. Peanut butter, sunflower seed butter, cashew butter, and other nut kinds of butter work well!
Nutrition Information
Yield 20 Serving
Amount Per Serving Calories 126 Kcal
Total Fat 9g
Carbohydrates 6g
Fibre1g
Sugar 3g
Protein 4g
*You can also buy all the necessary ingredients onDorri.co.ukTheir quality is incomparable in the United Kingdom and they have the Free UK Standard Delivery (learn more).
Questions you may have about Banana cookies:
Can I use various types of chips and nuts?
Absolutely! Dark chocolate chips, peanut butter chips, and butterscotch chips are all good options. Alter the nut selection as well. Almonds would be delicious. You can use one nut or a combination of two. It's entirely up to you to experiment with different chip and nut combinations. You can also follow the recipe exactly as described, which has shown to be quite good!
Can I bake cookies without nuts?
You may prepare these without using any nuts. Because the chips are removed from the cookie dough, the recipe will yield fewer cookies and they will be less chunky than shown in the photographs.Nutty Chocolate ChipCookies can be stored at room temperature in a closed container for up to three days. They keep nicely in the freezer as well. Freeze in an airtight jar for up to three months.